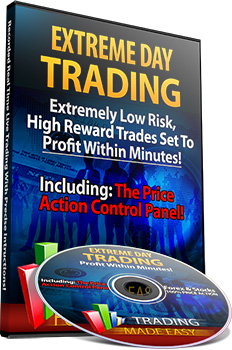 The Extreme (Day) Trading System - Extremely Low Risk, High Profit Potential Trades Set To Profit Within Minutes!
Ideally The Entry and Stop are the same = No Loss
In the Extreme Trading Video You'll See How I Day Trade The System LIVE, Using My Own Money.
My Profit: $480 In Less Than One Hour!
I'll Explain Exactly How The Strategy Works And How You Can EASILY Use It RIGHT AWAY!
My Goal With This Strategy Alone: $1500 Per Day!

But the real "Secret" behind my system is the "Price Action Control Panel"...I'll Show You Exaclty How To Set It Up!